Edmonton police continue to see dangerous encampment fires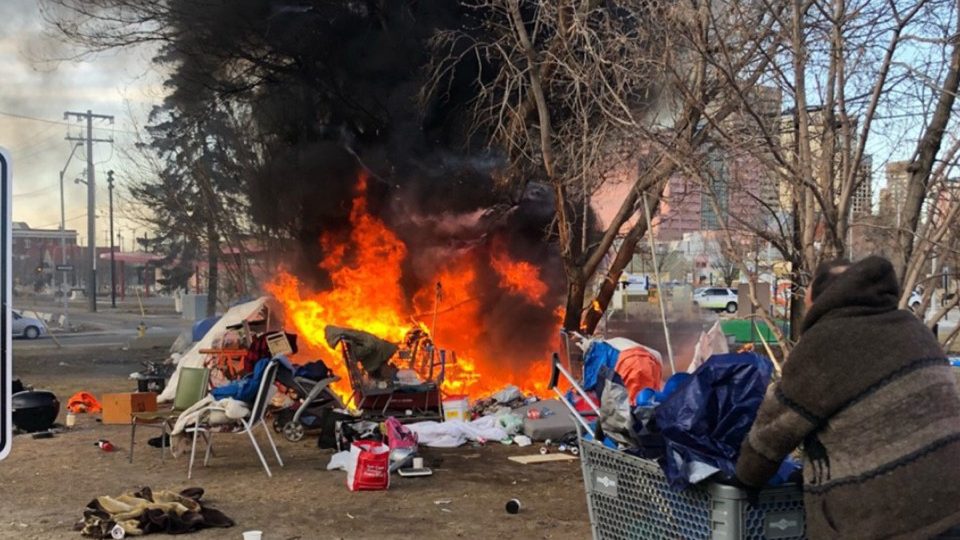 Posted November 14, 2023 5:56 pm.
Last Updated November 14, 2023 5:58 pm.
As colder weather begins to set in, Edmonton police are sounding the alarm about the number of dangerous and deadly encampment fires threatening the homeless community.
Monday, police and firefighters responded to an alley near 112 Street and 105 Avenue after receiving reports of explosions and someone screaming in the area.
When crews arrived, a man was seen engulfed in flames. EPS says he suffered life-threatening injuries and is in hospital in critical condition.
Another man was also taken to hospital following the explosion, but he suffered less serious injuries.
EPS also noted on Friday, officers who were at the Herb Jamieson Center were alerted to a fire within a nearby homeless encampment.
When the officers arrived, they learned that several propane tanks had exploded. Due to the explosions, shrapnel was dispersed throughout the encampment.
Police confirm that no one was injured from the shrapnel, however, say one person was treated and taken to hospital after suffering from burns from the fire.
Earlier this month, two people were found dead in two separate fires in downtown encampments.
A 54-year-old man died November 4th in a tent fire behind a shelter at 110 street and 105A avenue. A day later, the remains of an unidentified women in her mid 20's were discovered once a fire at 95 street and 105A street was extinguished.
In a statement, a spokesperson for Edmonton police says "these encampments present serious dangers for those individuals living in these tent communities, including serious levels of day-to-day violence, gang activity and associated violence, fires and hygiene issues."
Numbers from Edmonton police show there has been an increase in the number of police incidents related to encampments this year compared to last.