EDMONTON – A pregnant Alberta woman who is working abroad and must urgently return to Canada may see her two of her children stranded at the Canada-U.S. border due to an issue with immigration permits.
Sarah Wallace is an aid worker who's been working in Haiti since 2008. She and her husband have a biological son–three-year-old Jean-Jacques and they are the legal guardians to two other children–Jean Moise, 4, and Eva-Maria, 2.
The couple is currently in the process of adopting Jean Moise and Eva-Maria.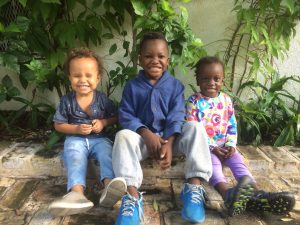 The Devon, Alta. native is desperately trying to return to Canada due to complications with her pregnancy, so she applied for temporary resident permits for Jean Moise and Eva-Maria so the family could come home.
She and her husband were shocked to hear back from the Canadian government that the permits had not been issued because their adopted children were not considered "immediate family members".
---
RELATED:
Immigration policy change affects family reunification
---
"How on Earth are Eva-Maria and Jean Moise not immediate family members?" said Wallace.
"There's no way I can leave them behind. We are family."
Another concern listed on the rejection letter was that the Canadian government didn't believe the family would return to Haiti, "given the state of the country". Wallace says with them being so far along into the adoption process, it would make no sense for them not to return. On top of that, they have return flights booked.
Wallace said the suggestion from Canadian authorities was to have the husband and children stay in Haiti and have Wallace return home to give birth alone.
"I just thought (it) was completely heartless and it goes against what I thought Canada stood for. And even the whole purpose of the COVID exemptions was to keep families together and they are recommending basically the opposite in our case," she said.
The family and their lawyer has written to Immigration Canada to further explain the situation, that the adoption is near completion, and ask again for the permits.
Wallace has flights to Canada for the whole family booked for this coming Friday, the latest they can fly if they are to allow for a quarantine period after they return home before her due date.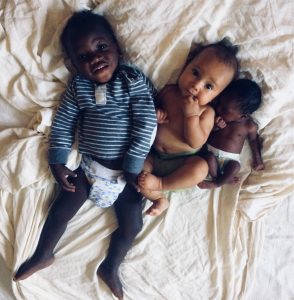 And while the U.S. has given them entry visas to land in Seattle, where they plan to connect to Vancouver, the family hasn't heard back from Ottawa.
"I can't believe my own government is being so cold-hearted when they have the ability under their own legislation to show humanitarian and compassionate consideration of our case," said Wallace.
"What are we supposed to do on Friday night, sit at the border until they issue us the permits for kids who are totally dependent on us at the ages of 2 and 4?"
She and her family are hoping for a last-minute miracle, but they do have a contingency plan if they're forced to stay in Seattle.
CityNews has reached out to Immigration Canada and a spokesperson for the department said they understand cases like these are "complex" and "challenging for the families".
View the full statement below. 
A statement from the spokesperson goes on to say that the adoption process must be completed as well as an application for immigration or citizenship.
"The federal government is only involved in the immigration or citizenship process for an adopted child," reads the statement.
"There is no indication that the adoption has been finalized in Haiti."
Issue visas for her children, pleads MP
Dane Lloyd, MP for Sturgeon River-Parkland, has been outspoken and critical of the Canadian government's treatment of Wallace's case.
He said he understands what the government is going through, wanting to keep borders safe and encouraging people to avoid non-essential travel, but he says this travel can be deemed essential.
"I want the Canadian government to issue visitor visas for her children," said Lloyd.
"We've got a Canadian woman who has a complicated pregnancy, who needs to get back to Canada, and who needs her family to be with her," he said.
"And while I do understand the challenges of COVID and the government right now, that fact is that the United States government issued visas for the family to go to the United States. And it's embarrassing for Canada that our government can't get its act together and issue visas for this family so they can come to Canada."
He says he believes the federal immigration minister has heard calls for help from the family and from Lloyd, but that it appears he's chosen to do nothing.
"They're hiding behind a fig leaf, trying to say… (they're protecting) the rights of the children and prevent child trafficking and (there's) COVID rules… but the United States government has just eviscerated this argument," he said.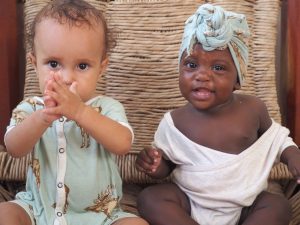 "If (the U.S.) is willing to issue these visas, then surely Canada should be willing to follow suit."
He said he remains hopeful that the family will get the temporary permits before their flight on Friday even though the immigration minister hasn't responded to any of Lloyd's calls, letters, emails, or Twitter messages.
"If I get the chance to talk to him, I am going to say, 'We need these visas now!'"
Lloyd says Canada should be proud of Wallace for her humanitarian work, but instead it's leaving her behind.
"She has been lauded by this government… I believe Prime Minister Harper personally met with her a number of years ago for her humanitarian work and now our current government has turned its back on her," he said.
"The fact that she's being abandoned in her time of need is a disgrace on our country."