'Really far behind': Alberta should emulate other provinces' accessibility legislation, advocates say
Accessibility advocates say Alberta is one of the last provinces without provincial accessibility legislation. They're calling on the province to take action to address barriers faced by those living with disabilities.
Posted November 14, 2023 1:02 pm.
Edmonton accessibility advocate Marla Smith is one of many Albertans advocating for better rights for the disability community across the province.
Smith says something that should be as simple as going to pick up food at a restaurant or sandwich shop can be nearly impossible when businesses don't have to consider accessibility. It's just one of many barriers she says she faces daily.
"People have a tendency to not recognize barriers," Smith said.
She says oftentimes people will ask her if she's tried a certain restaurant, but not recognize that they had to step over something to get in the door.
"It just feels like we're always having to fight and that's the hard part. Because little things you would think are easy, aren't."
According to Barrier-Free Alberta, an initiative that emerged from the Alberta Ability Network Human Rights Table, Alberta is one of the last two provinces to create accessibility legislation.
Alberta is 'really far behind'
Regarding legislation, Smith says Alberta is "really far behind". She says there is no framework in place and feels that often leads to situations where people with disabilities have to beg to participate in events and in every day social situations.
"It affects socialization, it affects employment, it affects access to education, recreation, all aspects of life," Smith said.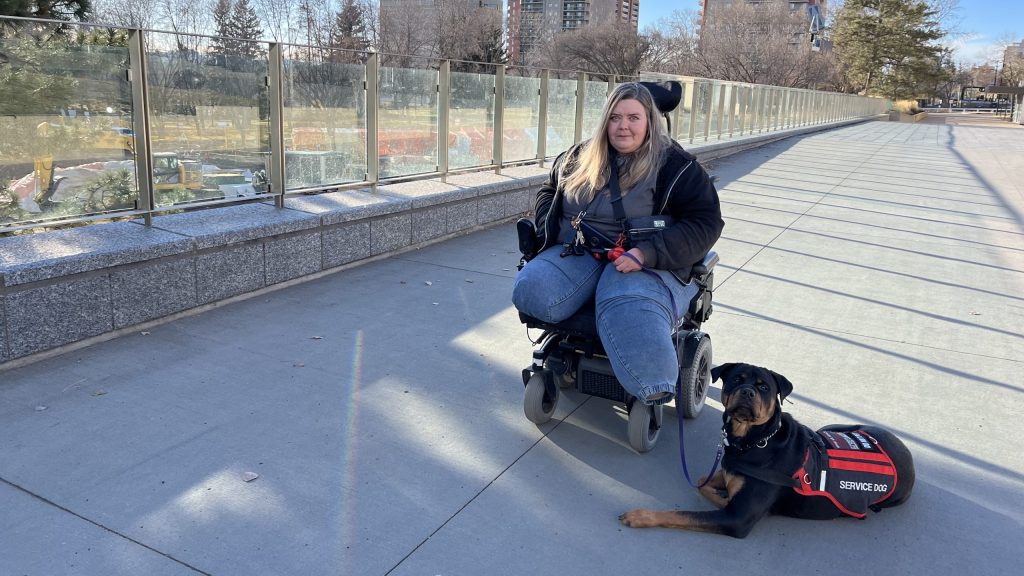 With an aging population, Smith says more and more people will need those accommodations and access, especially when it comes to housing – as seniors can no longer climb stairs.
"I think a lot of it is lack of knowledge," she said. "I think even in our province, a lot of people don't understand that there is no legislation. They assume that the building code covers everything and they tend to assume that the Human Rights Act is a much more proactive solution than it really is.
"When we're not seen, then it's assumed that disability is rare and therefore the need for accessibility doesn't exist and it just creates this perpetual cycle. So then we continue to stay left out of things and our input isn't considered."
Alberta can copy other provinces: advocate
Zachary Weeks also lives in Edmonton and is a disability advocate and accessibility consultant who was born with Cerebral Palsy. He agrees that Alberta needs to move forward as soon as possible with legislation to address barriers.
"Where we're lacking in legislation right now is that we don't have legislation," Weeks said.
He says it's a matter of identifying what other provinces have done and what could be tangible outcomes for Alberta. Weeks says there has been a lot of work done on similar legislation in various jurisdictions already.
"There's no need to re-create the wheel," Weeks said. "Let's just get something down on paper that it'll have some teeth."
---
'Access is a human right': Edmonton woman in wheelchair unable to attend dog park opening
---
Weeks tells CityNews all levels of government need to be held accountable.
"Here in Alberta it's a patchwork, and so other provinces, it comes across as more structured," Weeks said.
"Once of the challenges is it needs to come in line with the federal Accessibility Canada Act, and so that only covers certain areas of legislation."
According to the Alberta Advocate for Persons with Disabilities 2022-2025 Strategic Plan, released in July 2022, creating provincial legislation is one of its key priorities. The plan states there is no "central provincial legislation concerning disability in Alberta", and recommends a "proactive approach." The plan also highlights that Ontario's Accessibility for Ontarians with Disabilities Act (AODA) has been a model for other provinces that have created accessibility legislation.
Ontario was the first province to pass this type of legislation in 2005. It created laws that outlined a process for developing and enforcing accessibility standards. British Columbia passed similar legislation with Bill 6: Accessible British Columbia Act in 2021.
Barrier-Free Alberta highlights that Alberta and Prince Edward Island are the two provinces without similar legislation in the works.
In a statement, Heather Barlow, the press secretary to Alberta's Minister of Seniors, Community and Social services Jason Nixon, tells CityNews the minister wrapped up roundtable across the province, meeting with disability stakeholders to discuss accessibility.
"The Advocate for Persons with Disabilities has been researching what accessibility legislation could look like in Alberta, including what other federal and provincial jurisdictions have done to address accessibility," Barlow said. "He has also engaged with persons with disabilities, disability groups, and the general public to hear their views on the state of accessibility in the province."
Barlow says Alberta's government is committed to working with the disability community to make sure the provincial government is "providing appropriate supports to help Albertans with disabilities live healthy, successful lives."
Province has not approached disability community: advocate
Marla Smith says there has been "very little discussion" with the provincial government and she says they haven't approached the disability community as a whole about what they would like to see. She says with existing framework in other provinces, Alberta could build off of that and expedite the process.
"Right now it's very reactive, instead of proactive," Smith said. "Instead of having legislation that states 'yes you must be accessible', or 'you must have a plan in place to deal with disabilities in general and have your staff trained,' we have a system where the person with the disability has to request the accommodation and then work with the business or the agency to try and get that accommodation made."
Weeks says there is a need there and it's a matter of the community coming together and unifying and actually having provincial government and municipal governments working together to create a consistent and comprehensive legislation that meets a wide variety of accessibility needs.
---
Commonwealth Stadium gets 'average' accessibility rating from disability advocate
---
"Whether it's physical infrastructure, whether it's customer service, overlapping into tourism, if there was accessibility legislation it would also be an economic draw to the province because people would be able to come and visit our province in a way that's equal to everyone else," Weeks said.
How to make housing more accessible
Smith says there are many things she'd like to see mandated. In terms of housing, she says, accessibility and visitability need to be addressed.
"I think definitely we'd have to see an increase in standards for buildings. Go into any strip mall and the majority of doors won't have a power button. Something as simple as that can make such a huge difference," Smith said.
"When you consider we've got an aging population and approximately 10 per cent of people with some form of mobility issues yet, accessible housing is so rare and even visitability to get into a person's home to be able to celebrate Christmas or Thanksgiving dinner with someone, it's extremely rare, so housing is a big issue."
Smith says there are waitlists to get into accessible apartments and she says they are usually quite small and oftentimes not the best environment for someone with a disability, especially if they have limited access to the outdoors.
She also says businesses need to be more accessible, and oftentimes business owners are unsure how to accommodate.
Smith says she took a group of post-secondary students out to Whyte Avenue to do accessibility audits on some of the businesses there. She says out of the businesses the students selected, none of them passed the Ontario accessibility audit.
"One of the things we have to do is have businesses have that plan of action on how you would deal with someone with a physical disability that might face barriers and that isn't limited to just wheelchairs," Smith said. "If you have somebody who is visually impaired, what are your signs like? What are your menus like? Are they able to have an electronic version that they can scan and have their phone read? Are your staff familiar with 'the clock system' when they put something down on the table to describe it to a person? There could be so much more training out there."
'We're beyond just placing a ramp and an elevator'
Smith says in Ontario those things are standard. Weeks agrees, and says now is the opportune time to really make it happen.
"Ontario is definitely a leader in terms in regards to that, albeit nothing is perfect, but at least they have something in place to hold people semi-accountable and include people at a whole different level," Weeks said.
"How can the province of Alberta say that they take us seriously if we're the second-last province to make it happen? I'm a proud Albertan and it breaks my heart to see that we're only as good as the way that we treat our most vulnerable and to not have a legislation in-place after all these years when other provinces for decades, it's embarrassing.
"We're beyond just placing a ramp and an elevator, we need to make sure that all Albertans are taken care of with a thorough and comprehensive legislation that really has teeth.
"I think it's going to take a lot of collaboration and I think it's imperative that the various governments talk to each other, but more importantly have the legislation informed by people that it affects on a day-to-day basis. So having a wide variety of people with disabilities informing what works and what doesn't – they're the experts in the room. The government is there to listen to its constituents and ultimately make policy. Their expertise is making things happen, our expertise is knowing what works and what doesn't in a pragmatic and practical way."
Referring to the Advocate for Persons with Disabilities Strategic Plan, Smith says even if the goal for legislation is 2025, she says that's going to take much longer to make a difference.
"Two years doesn't sound like a long time, but when every day you face barriers it's a tremendously long time. We know how slowly legislation moves, so when they say they want to have legislation in place by 2025, honestly that isn't going to look like anything within the next decade for substantial change," Smith said.