'Access is a human right': Edmonton woman in wheelchair unable to attend dog park opening
Edmontonian Marla Smith says she and her service dog were unable to attend the weekend opening of a new dog park because of accessibility issues. She's calling on the city to be more inclusive at events and within their facilities.
Posted November 7, 2023 10:58 am.
Last Updated November 7, 2023 11:03 am.
Marla Smith was excited to attend the grand opening of the Pleasantview Dog Park in Edmonton over the weekend.
Smith, who uses a wheelchair, showed up to Saturday's event – hosted by city councillor Michael Janz and Edmonton Strathcona MP Heather McPherson – with her service dog Kuno.
But the Edmonton accessibility advocate says she arrived to find the park was not accessible to wheelchairs, and she couldn't get in.
"It's 2023. It should be a matter of being able to go to an outdoor facility and simply going in like anybody else," Smith told CityNews.
"It's always awkward and embarrassing to be in that situation where you want to get into a place and you can't."
Smith says the biggest concern was there was a significant drop from the concrete into the soft dirt. The city added more soft dirt by Sunday afternoon – but that was too late for Smith and Kuno to take part in the event.
People on site offered to lift her wheelchair in and out of the park or use temporary plywood to get her inside. Smith says the plywood boards on hand could barely support a person, let alone her roughly 400-pound power chair. She says it would have been unsafe and dehumanizing.
Smith took to social media to express her frustration in a tweet that has been reposted more than 700 times in three days.
"It becomes emotionally hard at times," she said. "It's easy to start avoiding places and I think this is why a lot of the public generally aren't aware of the barrier and how many barriers there are in our city because it gets very hard to keep going out and facing obstacles like that and eventually it becomes so aversive that people stop going out and putting themselves in those situations.
"Why do we always have to show up, not be able to get in and then it becomes an issue? Realistically we shouldn't have to use social media to put pressure on places to become accessible, but it seems to be something that is a regular requirement."
Edmonton 'keeps dropping the ball'
She says nobody from the city took the time to identify and address the barrier before the event began, adding the issue could have been avoided if the city had simply brought a temporary ramp.
"They could have installed that and it would have covered the height and the width and it would have been a safe way for people to get in until they permanently rectified the situation, but nobody took that initiative and that one falls on the city," she said.
"A dog park is a pretty simple facility and if we can't make sure we have accessibility done properly in a place that's small and with simple needs to get in, how can we trust the city to look after big projects like rec centres?"
RELATED: Commonwealth Stadium gets 'average' accessibility rating from disability advocate
She says she received an email from Coun. Janz apologizing and saying he would follow up with the developer, but Smith questions why this wasn't done proactively. She says the City of Edmonton "keeps dropping the ball."
"It's really easy for them to throw out the term 'inclusive,' and again this is something I see on a regular basis with our city councillors; they all talk about how 'we are going to make this a city for all. Edmonton should be a more inclusive and welcoming place.' And their actions don't match that."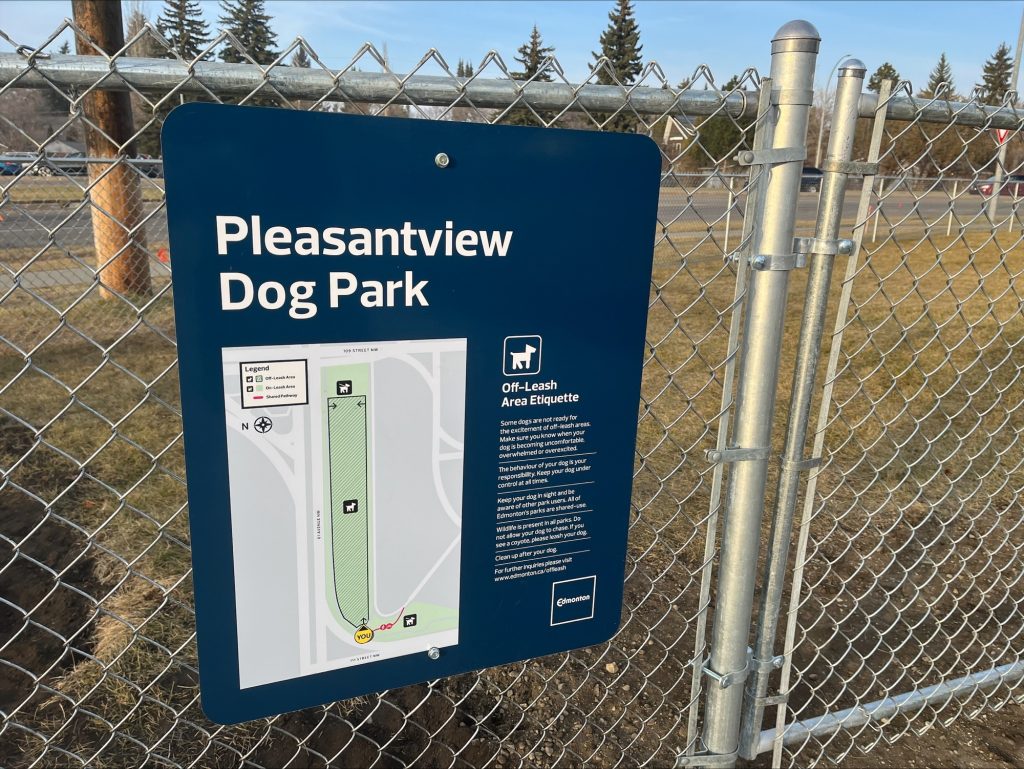 Smith says the event at the new Pleasantview Dog Park isn't the only time she's experienced issues. Access is a human right, she says, and communities need to be inclusive places.
"There's a level of humiliation and it puts you in a situation where you're completely powerless and we should just be able to do better," she said.
'We apologize for the inconvenience'
In a statement to CityNews, the City of Edmonton says final work on the dog park is expected to be completed this week, with the entrance being "regraded" to improve accessibility.
"Whether it's the construction of a new facility or improvements at an existing park, the City places a high priority on accessibility," the statement reads. "We apologize for the inconvenience."
Smith says she was not impressed by the city's use of the word "inconvenience" – used both in its statement to CityNews and in a reply to Smith's original post on X.
"Denying access is NOT an inconvenience," Smith wrote back. "It's actually a violation of human rights and discrimination. If the city truly placed a high value on Accessibility, you wouldn't treat this as merely an inconvenience.
"We're happy to provide you with a training presentation on Inclusivity, Ableism and Equity. It appears It's greatly needed."
Smith hopes to continue to raise awareness about the issue and hopes others will help identify these barriers and speak out when they see them to put pressure on all levels of governments to make necessary changes.