EDMONTON – Following nearly a year-long investigation, Edmonton police have laid 30 charges against three men and one woman.
Earlier this week, tactical units executed search warrants at three addresses in the northern portion of the city.
The four suspects, 28-year-old Zaahir Hussain, 27-year-old Kayla Zawierucha, 38-year-old Walid Safadi, and 37-year-old Alfaz Hussain are facing charges, which include possession for the purpose of trafficking and possession of proceeds of crime over $5,000.
Police were able to seize 3.5 kg of cocaine, and 1 kg of methamphetamine and a large sum of cash.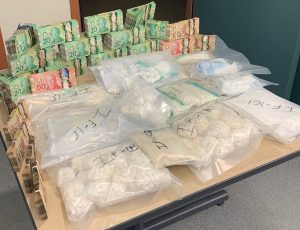 "The successful conclusion of this file was the result of a thorough investigative effort by Northeast Division and teamwork across various units of the EPS," says Cst. Kevin St. Louis in a release. "We are pleased we were able to disrupt a drug trafficking operation and remove a substantial quantity of cocaine and methamphetamine from our community this week."