UCP vows to decentralize Alberta Health Services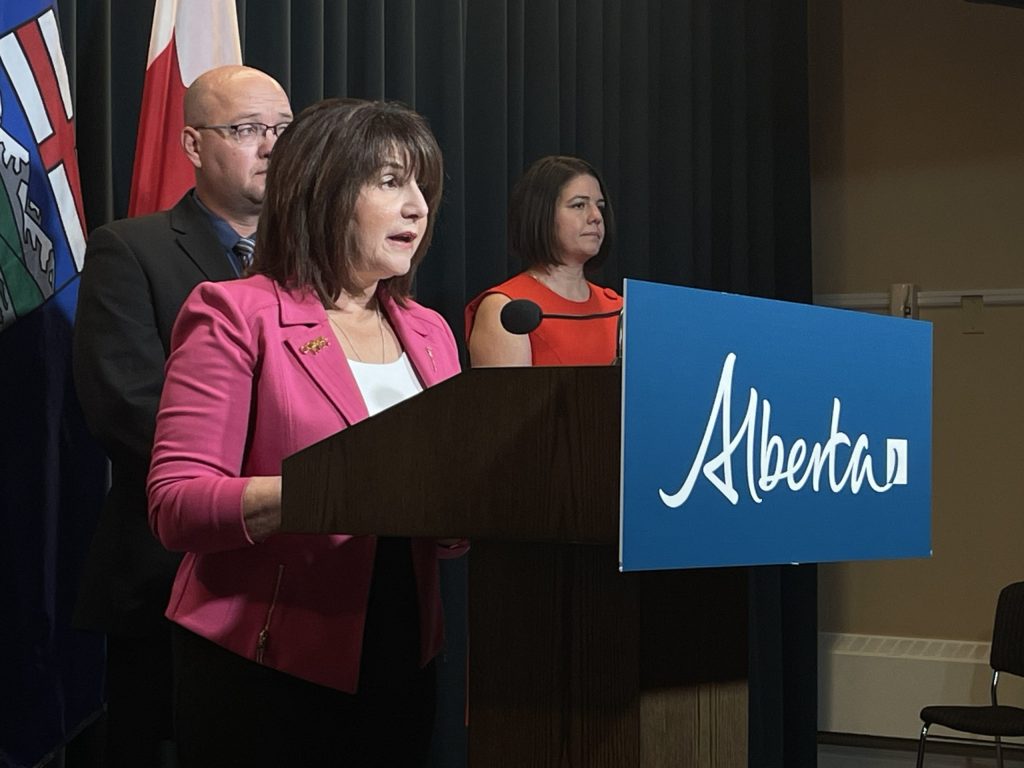 Posted November 7, 2023 11:36 am.
Alberta Health Services could soon be getting an overhaul.
Over the weekend, Premier Danielle Smith told the audience at the United Conservative Party's annual general meeting that some changes will soon get underway.
AHS will likely become decentralized in the future, and many are wondering what that could look like.
Alberta Medical Association president Dr. Paul Parks says doctors in the province are just as curious.
"Small changes in the AHS structure could have massive ramifications on how patients are cared for," he said.
Tensions were high during Monday's question period, when health minister Adriana LaGrange said the current system isn't working, and that an overhaul is needed to ensure people get the care they need.
"I've gone across this province — I've heard from Albertans, I've heard from the workforce," she said. "They're wanting change and Mr. Speaker, we're going to give it to them."
LaGrange said anyone who has sought medical services lately has likely noticed the need for change.
"Any Albertan who has gone to a hospital or to a clinic and had to endure the long wait times and not had access, and not had quality care, knows that we have to do something differently," she said.
As for what decentralization could really do to improve the system, health law expert Lorian Hardcastle says the province appears to be taking a route not since the 1990s.
"The concern is that there really isn't the evidence base to support this, and hopefully the government has thought through these issues and has satisfactory answers for Albertans," she said.
Hardcastle explains there were several reasons why AHS was centralized.
"We really are going back in time. There are concerns that would disrupt the integration that a single health authority is able to bring, and of course, that's the reason that regionalization happened in the first place."
While opposition leader Rachel Notley isn't trusting what the plan will look like.
"The UCP government has to be kept as far away as possible from Alberta's healthcare system," she said.
The opposition adds that after the chaos that was the transition to DynaLIFE lab services, the conservatives should leave healthcare alone.
"This isn't just about how quickly they can clean up their mess — it's also about their overall inability to properly handle an essential health service," Notley said during question period. "Why won't this government focus on helping Albertans instead of those endless and unnecessary efforts to reorganize and privatize our healthcare?"
Smith promised over a year ago that fundamental reform of AHS would be coming, criticizing its response to COVID-19, and going as far as to fire the board and replace it with one person.
She has said that the review will likely take upwards of two years.
Regionalization in health care took place across Canada during the 1990s, including Alberta, before AHS was introduced in 2008.