Alberta premier plays down prospect of advisory council of defeated candidates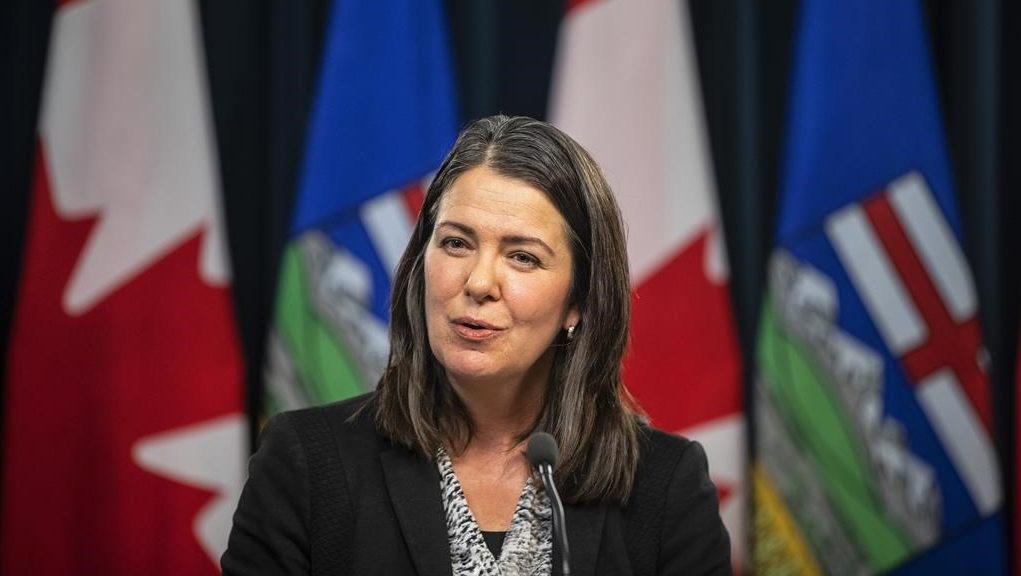 Posted June 8, 2023 2:42 pm.
Alberta Premier Danielle Smith is playing down an earlier pledge to create a council of defeated Edmonton candidates to advise her.
Smith says her United Conservative Party caucus has cabinet ministers and other experienced legislature members in municipalities surrounding the provincial capital from whom she can draw policy advice.
"I have a lot of depth to choose from because with the mandate that we were given, we did get representatives from all over the province," Smith said Thursday in an interview on the Ryan Jespersen podcast.
She said she can also call on city councillors and Edmonton Mayor Amarjeet Sohi.
Smith made the comments after Jespersen asked about her promise last week to craft a council of defeated UCP candidates to advise her on policy in the capital.
The Opposition NDP swept all 20 seats in Edmonton in the May 29 election and Smith's comments were widely criticized as a slap in the face to the provincial representatives Edmontonians chose.
Smith's UCP garnered 49 seats to win a second consecutive majority government.
Smith noted there are multiple municipalities that abut Edmonton or are within a short drive from the city boundary that share many of the larger metropolitan concerns.
Those ridings, known colloquially as the "doughnut" around the capital, include returning cabinet ministers Nate Glubish (Strathcona-Sherwood Park), Dale Nally (Morinville-St. Albert), along with second-term MLA and former municipal councillor Searle Turton (Spruce Grove-Stony Plain).
---
RELATED:
---
Smith is to announce her new cabinet Friday and hinted Glubish, Nally and Turton will be at the table, calling them "a few names you'll probably hear a lot more about."
The cabinet will look significantly different from the one Smith appointed when she won the UCP leadership and became premier in October.
Six of its 27 slots are vacant due to retirements or election losses, including core portfolios in Health, Finance, Justice, Social Services.
The Opposition NDP captured 38 seats, including just over half the seats in Calgary and a few outside the two big cities. NDP Leader Rachel Notley has said she is staying on as leader.
The long-term future of one newly elected member – Jennifer Johnson of Lacombe-Ponoka, who ran under the UCP banner – remains unclear.
Smith said last month Johnson won't sit in the UCP caucus after a 2022 recording surfaced in which Johnson is heard comparing transgender students to putting feces in cookie dough. Johnson has apologized and Smith has said she believes in second chances.
Asked by Jespersen about the path back for Johnson, Smith would only say, "I've sent a letter to (house) Speaker (Nathan) Cooper, letting him know that (Johnson) won't be sitting with us in our in our caucus."
"The legislative session begins in October, so she'll have to do her work as an Independent."
Smith said the summer plan is for her members to meet with constituents and stakeholders at rodeos, barbecues, parades and other events.
"I think it slows the pace down a little bit and hopefully allows for people to take a breath," Smith said.
"We've had so much divisiveness in politics over the last number of years, I think people want to be able to enjoy their summer with their friends and family."
Also Thursday, Elections Alberta announced the final results of the May 29 vote.
The UCP received 928,896 votes, representing almost 53 per cent of voters.
The NDP received 777,397, good for 44 per cent. The Green Party of Alberta was a distant third, collecting 13,458 votes, representing less than one per cent of the vote.
Overall voter turnout was 59.5 per cent. That is down considerably from the 67.5 per cent when the UCP under Jason Kenney won its first majority in 2019.
Voter turnout was 53 per cent when Notley and the NDP won in 2015.
This report by The Canadian Press was first published June 8, 2023.