South African firefighters sing, dance after touching down in Edmonton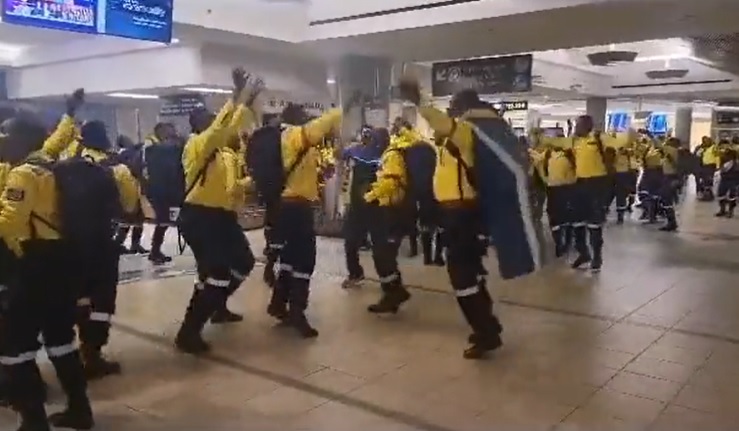 Posted June 4, 2023 1:34 pm.
Last Updated June 4, 2023 1:38 pm.
Firefighters from South Africa touched down in Edmonton Sunday to help battle the ongoing Alberta wildfires – and their arrival hit all the right notes.
Two-hundred-and-fifteen fire crew members – 200 firefighters and 15 managers – from South Africa, all in their yellow uniforms, performed a traditional song and dance at the Edmonton airport.
A video was shared to social media by "Working on Fire," part of South Africa's Department of Forestry, Fisheries and the Environment.
Awesome!

South African firefighters perform their traditional song and dance after they arrive in Edmonton to help battle a record-breaking wildfire season in Alberta. #yeg #yyc #abwildfire https://t.co/qhxatzlu9F

— Courtney Theriault (@cspotweet) June 4, 2023
The crews left Kruger Mpumalanga International Airport Saturday, landing in Edmonton around 9:30 a.m. Sunday.
Their deployment is expected to last 35 days.
"The South African team underwent intensive three-day refresher training at the Kishugu Training Academy in Mbombela, Mpumalanga (South Africa) before heading off to Canada," Working on Fire said on its website.
---
READ: Firefighters from U.S., South Africa to battle 'unprecedented' fires in Canada
---
Alberta is dealing with a record-breaking wildfire spring so far. Fifty-nine wildfires remain active, with the northern part of the province still at high risk.
On Saturday Alberta ended its provincial state of emergency, which had been in effect since May 6.
Some Albertans expressed their thanks to the South African firefighters on Twitter.
"Bless every one of them. I'm sorry we had to call, but so so grateful they answered," wrote one user.
"Thanks for coming and helping out in Canada! Love the joyful musical arrival too!," tweeted Susan Padget.
It's the fifth deployment to Canada for the South African crew. They also sang and danced when they arrived in Edmonton to help battle the Fort McMurray wildfire in 2016.
They travelled to Manitoba in 2021 to help with wildfires there.
WATCH: South African firefighters land in Manitoba
Working on Fire called it a testament to the strong partnership established between the two nations.
A second team of 200 firefighters is expected in Alberta next week or the week after.
The group recruits its members from marginalized communities and provides them with fire awareness, prevention and suppression skills.