UCP commit to public health care; NDP points to previous private options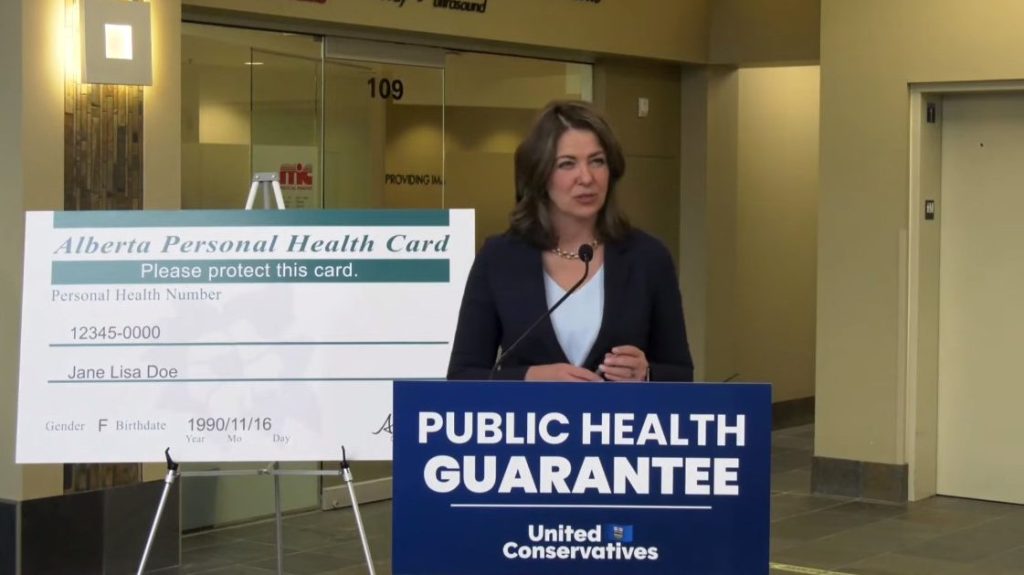 Posted April 11, 2023 5:20 pm.
Last Updated April 12, 2023 6:14 am.
Call it the unofficial kickoff to the election campaign. Danielle Smith made her first election promise as the UCP party leader, not the premier, a 'public health guarantee'.
Smith says the UCP are pledging to stick with publicly-funded health care and not axe any services and prescriptions.
"When you and I go for a check-up you don't need to pull out a credit card and you won't have to with a UCP government. No Albertan will have to pay to see a family doctor out of pocket," said Smith.
If it seems familiar, it's because then UCP leader Jason Kenney did the same thing ahead of the 2019 election – which later drew criticism for his party's feuding with doctors and nurses.
Smith says her promise is about clearing the air.
"It's because the NDP keeps lying about what we're going to do. They keep on acting as if we're going to impose user fees and ask people to pay out of pocket, but if you look at our record, that's not the case," she explained.
"Politicians have a $950 health care spending account. Rachel Notley has a $950 health spending account. Why should taxpayers pay for her to get those services covered when we don't offer that to taxpayers?"
---
RELATED:
---
However, Chris Galloway with Friends of Medicare doesn't know how anyone could trust that.
"She's repeatedly in the past talked about Albertans paying to access a family doctor, paying deductibles for surgery, has proposed a health spending account so Albertans will match money to pay for health care services. So it's her own record she's contradicting on public health care," explained Galloway.
"We saw in her budget, and what she's been doing over the last few months, it's still the privatization of health care, so it doesn't ring true to us. It doesn't feel credible. I don't think we can trust Danielle Smith on public health care or any guarantee or gimmick they are using heading into the election."
The NDP's health critic David Sheperd argues the UCP is merely building back up a health care system it had stripped down. Shepherd also claims that Smith's musing on health care spending accounts could mean Albertans need to dig deeper for health care.
"She said Albertans should have to pay a deductible to have major surgery as recently as last month," said Shepard.
"She was clear when she first proposed these HC savings accounts, that they were a means to introduce the idea that Albertans should pay out of pocket on some HC services she should be absolutely clear on this point."
The premier's announcement comes as the UCP aims to mend fences with medical workers. The opposition arguing the government's latest pledge is simply too late.
"This is clearly a premier and government that are eager to rewrite their record on an eve of an election.
-With files from Lisa Grant, CityNews